4 week Ladies Salsa Styling Workshop at Putney
LADIES STYLING  INTERMEDIATE / ADVANCED LEVEL WORKSHOP AT PUTNEY SALSA CLUB
Next Course Details
Date: 1, 8, 15, 22 APRIL 2016
Time:  7-8pm
LIMITED TO 20 WOMEN
Venue: PUTNEY SALSA CLUB, 63 Upper Richmond Road, SW15 2RD
Cost £30 (Advance bookings recommended)   LIMITED TO 20 WOMEN
To make a reservation, please make payment at any of our venues, or you can simply pay by Paypal by following this link:
CLICK HERE TO PURCHASE THIS SALSA WORKSHOP – £30

The course will focus on styling (hands, feet, body, posture, and attitude) , footwork, musicality, spinning techniques and ability to enhance confidence.
PROFILE   NINELA
 Ninela has been dancing almost all her life. She started with ballet, jazz and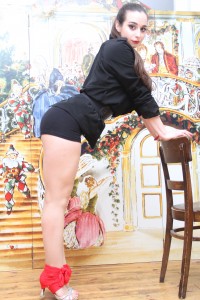 contemporary at an early age and has expanded her knowledge to other dances such as salsa, bachata, cha cha cha, NY Style On2, LA Style On1, Cuban, etc. Originally from Bulgaria, she has been dancing salsa for about 6 years now, performing as well as teaching across Europe.
You can catch her teaching at Putney Salsa Club on Fridays &  Hammersmith Salsa Club on Wednesday nights and performing with the Incognito Ladies Styling group.
With experience of different dance styles and a warm personality, she believes in encouraging others to develop expression and creativity in all aspects of their salsa dancing. A dynamic dancer with loads of energy and style, Ninela can lead and follow in many styles of dance, which makes her an inspiring teacher for students at all levels.
OTHER WORKSHOP / COURSE DATES:  
12 MARCH  LADIES SALSA STYLING/SPINNING
9 APRIL   BEGINNER / IMPROVERS SALSA WORKSHOP
9 APRIL  LADIES SALSA STYLING/SPINNING
13th MAY – 3rd JUNE – 4 week BACHATA COURSE
11 JUNE  LADIES SALSA STYLING/SPINNING
9 JULY   CHA CHA  CHA ALL LEVELS BEGINNERS TO ADVANCED
9 JULY   LADIES SALSA STYLING/SPINNING
13 AUGUST  BEGINNER / IMPROVERS SALSA WORKSHOP
13 AUGUST  LADIES SALSA STYLING/SPINNING
17  SEPTEMBER –   BACHATA  ALL LEVELS
17 SEPTMEBER –   LADIES SALSA STYLING/SPINNING
5 NOVEMBER  – BEGINNER / IMPROVERS SALSA WORKSHOP
5 NOVEMBER   LADIES SALSA STYLING/SPINNING
3 DECEMBER  KIZOMBA WORKSHOP ALL LEVELS
3 DECEMBER  LADIES SALSA STYLING/SPINNING