Miriam Oppel
MIRIAM OPPEL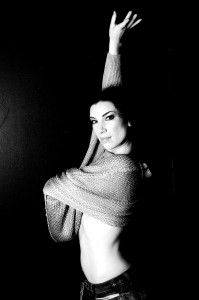 Miriam teaches for Incognito Dance running 12-week ladies performance courses. Next one TBC
Miriam Oppel is a highly sought after teacher and performer and is regarded as one of the best in the UK for ladies' salsa styling. Her background in dance is eclectic. She has a degree in Dance and Culture from the University of Surrey and has trained in a variety of genres including urban jazz, contemporary, classical Indian dance, African and ballet. She is known for her versatility and charisma, being able to easily switch from elegant to funky styles. Her successful dance partnership with Marchant Birch led to their being awarded Top UK Dance Act at the UK Salsa Congress 2006.
Miriam also performed with Tamambo and has danced for a number of salsa troupes including Rhythm Symbion, the Leon Rose Project and Iris de Brito and the Latin Soul Sisters. Her dancing has featured in several music videos and TV commercials. She has worked with Colleen Daniels and Inaki Fernandez, performing both internationally and around the UK. Currently manages the Latin Avenue Dancers Team
If you want to contact me please click here
She occasionally teaches salsa at all levels from beginners to advanced regularly for Incognito Dance Company at all their clubs in and around London, as well as ladies styling, shines and musicality.
Incognito Dance Company regularly at Wimbledon Salsa & Bachata Club, Putney Salsa & Bachata Club, Hammersmith Salsa & Bachata Club, Fulham Salsa & Bachata Club
About Incognito Dance Company (IDC)
Incognito Dance Company was established in 1999. It has some of the most experienced and qualified Latin Dance instructors and performers in Europe. All our Latin dance courses, workshops, holidays, events and clubs are run and taught by highly trained, friendly instructors who encourage dancers of all levels to enjoy the spirit of dance.
Incognito Dance has won many prestigious awards, including UK's Premier Salsa Teachers 2008/9, London Latin DJ Star 2010, Favourite London Club Promotors 2009/2012, Lukas Award Winners 2013, Best Salsa Dance Performers 2014. Over the last 16 years, some of the IDC instructors have competed in and won, World Championships, European Open Championships, South American World Ranking Tournaments, Asian-Pacific Dance Competition and Canadian Latin Open Championships.
Classes, courses and workshops are for all levels from the total beginner to the highly skilled advanced dancer and performer. Absolute beginners are warmly welcomed, no partners are required, the atmosphere is fun and friendly during the classes and freestyle social dancing.
Try our award winning Gold, Silver & Bronze Salsa Courses, learn to dance, have fun, keep fit and meet new friends. Check out the private lessons, weekly classes, regular workshops, boot camps, monthly parties, holidays, and special events.
Experienced dancers are given fun, technically challenging classes, and plenty of hours to social dance to the latest Latin music by our fabulous DJ's. We teach many Latin dance styles of salsa from LA Style, NY Style, Cuban and Puerto Rican, as well as Bachata, Kizomba, Cha Cha, Reggaeton, Latin Hip Hop, Merengue etc.