3 hour Ladies Intensive Salsa Foundation Workshop – Beginners – Intermediate Levels
WORKSHOP AT PUTNEY SALSA CLUB
Date: 17 JUNE 2017
Time:  2-5pm
Venue: PUTNEY SALSA CLUB, 63 Upper Richmond Road, SW15 2RD
To make a reservation, please make payment at any of our venues, or you can simply pay by Paypal by following this link:
CLICK HERE TO PURCHASE THIS SALSA WORKSHOP £25

(Advance bookings recommended – £30 on the door)
You do not need a Paypal account to make payment, the booking system accepts all debit/credit cards cards. Simply go through the payment process with PayPal Checkout, then an option link to pay by Credit/Debit card (for non-paypal account holders) with appear below the Paypal option saying "Pay by Credit or Debit Card"
This 3-hour Intensive Workshop Fundamental Salsa workshop for all ladies from Beginner to Intermediate levels. The focus will be on ladies styling:  including body movement, posture, balance, footwork, arm styling and spinning technique. 
If you are at the early or later stages of salsa dancing, this course will give you to the essential components of dancing beautifully and with ease.
If you are an intermediate dancer, this course will create the perfect platform to practice and master the above techniques, and to develop an awareness of what styling and movement means to you personally.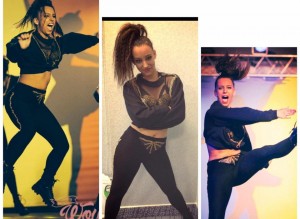 PAULA CANTON GONZALEZ
Paula has been dancing a wide range of dance styles during all her life: ballet, contemporary, jazz, hip hop, salsa and bachata. She has participated in some national and international competitions, becoming winner in some of them in contemporary and jazz styles. Since she was 16, she started teaching all her dancing knowledge in some schools from Barcelona. She has been always taking classes with professional dance teachers from all over the world in all of those styles.  She has participated in some advertisements, TV programmes, videoclip. Before coming to London, she was teaching in Barcelona contemporary and hip hop to children and salsa and bachata to adults (pair work and individual style). Dancing is her passion, so there is nothing in the world that makes her enjoy more tan be a dance teacher.
Please contact Paula for private lessons, teaching, performing, modern, contemporary classes or choreographing shows – click here
Paula teaches Salsa & Bachata at all levels from beginners to advanced regularly for Incognito Dance Company at all their clubs in and around London, as well as ladies styling, shines and  musicality. You will find her regularly at Putney Salsa Club, Hammersmith Salsa Club, Twyford Salsa Club & Jazz Cafe Reading
PUTNEY 2017 DATES  2-5pm:

 17 JUNE – 3 hour Bachata Workshop – all levels
17 JUNE  3 Hour Ladies Salsa Styling Workshop – Paula
8 JULY  – 3 hour Beginners / Improvers Salsa Workshop
8 JULY  – 3 Hour Ladies Salsa Styling Workshop – Ninela Ivanova
12 AUG  3 hour Bachata Workshop – all levels
12 AUG – 3 Hour Ladies Salsa Styling Workshop – Mia Amorbaila
16 SEP  – 3 hour Beginners / Improvers Salsa Workshop
16 SEP  – 3 Hour Ladies Bachata Styling Workshop – Jana Slosarova
11 NOV  – 3 hour Beginners / Improvers Salsa Workshop
11 NOV  – 3 Hour Ladies Salsa Styling Workshop – Amie Connelly. 
9 DEC  – 3 hour Bachata Workshop – all levels
9 DEC – 3 Hour Ladies Salsa Styling Int /Advanced Workshop – Paula Canton
About Incognito Dance Company (IDC) 
Incognito Dance Company was established in 1999. It has some of the most experienced and qualified Latin Dance instructors and performers in Europe. All our Latin dance courses, workshops, holidays, events and clubs are run and taught by  highly trained, friendly instructors who encourage dancers of all levels to enjoy the spirit of dance.
Incognito Dance have won many prestigious awards, including  UK's Premier Salsa Teachers 2008/9,  London Latin DJ Star 2010, Favourite London Club Promotors 2009/2012, Lukas Award Winners 2013, Best Salsa Dance Performers 2014.  Over the last 16 years, some of the IDC instructors have competed in and won,  World Championships, European Open Championships, South American World Ranking Tournaments, Asian-Pacific Dance Competition and Canadian Latin Open Championships.
Classes, courses  and workshops are for all levels from the total beginner to the highly skilled advanced dancer and performer.  Absolute beginners are warmly welcomed, no partners are required, the atmosphere is fun and friendly during the classes and freestyle social dancing.
Try our award winning Gold, Silver & Bronze Salsa Courses, learn to dance, have fun, keep fit and meet new friends. Check out the private lessons, weekly classes, regular workshops, bootcamps, monthly parties, holidays, and special events.
Experienced dancers are given fun, technically challenging classes, and plenty of hours to social dance to the latest Latin music by our fabulous DJ's.  We teach many Latin dance styles of salsa from LA Style, NY Style, Cuban and Puerto Rican, as well as Bachata, Kizomba, Cha Cha, Reggaeton, Latin Hip Hop, Merengue etc.