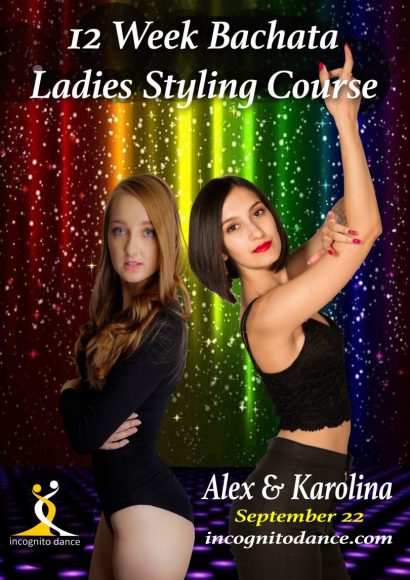 12 Week Bachata Styling & Technique Performance Course – Ladies Only
SOLD OUT
Incognito Dance LADIES ONLY Student Bachata Performance Team. This 12-week performance course is a unique opportunity for Intermediate & Advanced Ladies to take their dancing to the next level (Improver level ladies are also welcome to join, depending on how hard they are prepared to be pushed). By working on specific techniques, body movement, styling, spinning, and musicality, the aim is to improve your ability, grace, confidence, and presence as a female dancer.
Course Dates: 11th September – 27th November 2022.
Choreographers: Alex Boneva & Karolina Najman
Sunday afternoon sessions at Dance Attic, 368 North End Road, Fulham SW6 1LY.
Time: 12-2pm
Please email info@incognitodance.com to enquire about joining
The ladies are selected by Alex & Karolina based on their level and experience. They are looking for 12-16 Intermediate/Advanced Ladies to join this group, so please apply early to avoid disappointment. Places are now open.
The course is intensive and requires dedication and hard work inside and outside of the studio. It is very rewarding and we have always seen our ladies grow in confidence and develop techniques through this process. You will get 12 x 2-hour sessions that will prepare you for a variety of shows across London's top and best-established salsa & bachata clubs. Rehearsals take place in mirrored dance studios in the Fulham Dance Attic on Sundays.
Each lady will perform an average of 6-10 shows. Personal attention, guidance, and support will be provided over the entire experience.
The course is very focused on improving all the ladies technically as well as giving them huge confidence to dance with style and flair in normal social environments.
Choreographed by Alex & Karolina
These super talented and very committed ladies are one of the most talented members of the Incognito family. They have one of those rare talents to be gifted with style, beauty, flair, and an incredible ability to pick up any dance style in ultra-quick time. They are passionate about Latin music and dance and love sharing their knowledge and technical skills. Highly trained in Bachata, Salsa, Mambo & Cha Cha teaching all styles in classes, workshops, and performance courses.
Incognito Dance Company also teach Online Incognito.Dance as well as regularly at Wimbledon Salsa & Bachata Club, Putney Salsa & Bachata Club, Hammersmith Salsa & Bachata Club, Earl's Court Salsa & Bachata Club