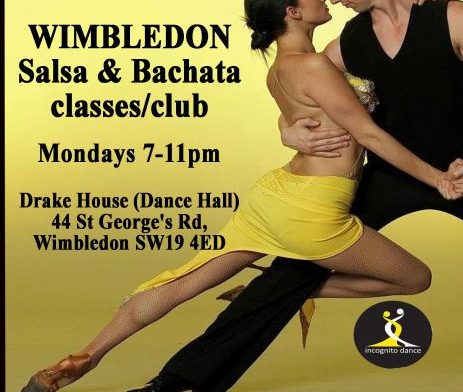 Mondays at Wimbledon Salsa & Bachata Club
Open Every Monday
(except we are closed on Bank Holiday Mondays: 22nd April, 6th & 27th May)
Look out for our special featured show night on 29th April, with the Incognito Teams performing their latest show.
Wimbledon Salsa & Bachata Club, Drake House Dance Hall, 44 St George's Rd, Wimbledon, London SW19 4ED
7pm – 11:00 pm
Bachata classes: 7:30 pm – 8:25 pm
Salsa classes: 8:35 pm – 9:25 pm
Social Dancing from 9:30 pm (Closed at 11 pm)
No prior bookings needed, just turn up and dance. Absolute beginners warmly welcomed
You are welcome to bring your own alcohol / soft drinks. Water and basic snacks will be provided.
High-quality lessons from Beginners to Advanced.
Fun & friendly classes for dancers of all levels. Plenty of high-quality social dancing to the best and latest Salsa, Bachata, Cha Cha and Latin grooves.
3 min walk from Wimbledon Main Line station. Parking on surrounding streets.
Wear comfortable shoes and light clothes, to keep you dancing comfortably all night
FREE SOCIAL DANCING AFTER CLASSES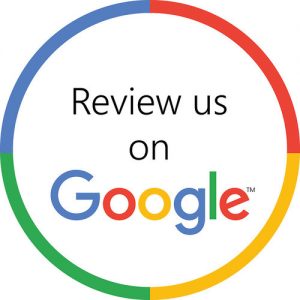 To buy any of our awarding winning Salsa courses online, simply click on the course of your choice. The course credits can be used at any of our venues at any time in a 12 month period:
New Salsa course for any level: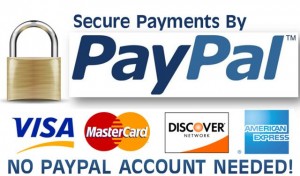 Incognito Dance Company also teach regularly at Wimbledon Salsa/Bachata Club, Putney Salsa / Bachata Club, Hammersmith Salsa/Bachata Club, and Fulham Salsa /Bachata Club
About Incognito Dance Company (IDC)
Incognito Dance Company was established in 1999. It has some of the most experienced and qualified Latin Dance instructors and performers in Europe. All our Latin dance courses, workshops, holidays, events and clubs are run and taught by highly trained, friendly instructors who encourage dancers of all levels to enjoy the spirit of dance.
Incognito Dance has won many prestigious awards, including UK's Premier Salsa Teachers 2008/9, London Latin DJ Star 2010, Favourite London Club Promotors 2009/2012, Lukas Award Winners 2013, Best Salsa Dance Performers 2014. Over the last 16 years, some of the IDC instructors have competed in and won, World Championships, European Open Championships, South American World Ranking Tournaments, Asian-Pacific Dance Competition and Canadian Latin Open Championships.