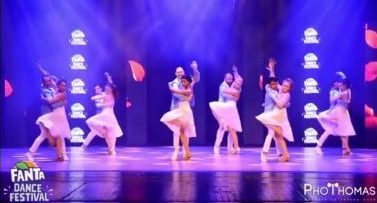 Congress: 21st – 23rd JUNE 2019, The 15th Bulgarian Salsa & Bachata Fanta Dance Festival
The 15th Edition of Fanta Dance Festival – European capital of culture for 2017.
FANTA Dance Festival gathers the dance lovers worldwide, the best teachers, the most amazing dance performances and the most interesting workshops. The festival is open to amateurs as well as professional dancers. More than 60 dance workshops in three halls.
For 15 years in a row Fanta Festival keeps being the most quality event in Bulgaria gathering the best dance artists from all over the world. Three days full of workshops, shows and endless parties.
Venue: House of Culture "Boris Hristov" ul. "Gladston" 15, 4000 Plovdiv, Bulgaria
Join the most quality and international dance event in Bulgaria! Your line-up so far:
Jeff Tarpinian UK, Ninela Ivanova (Bulgaria) & Incognito Show Teams
Incognito Dance Bachata Team (UK) & Ladies Performance Team (UK)
ARTISTS:
★ Daniel & Desiree – Spain
★Johnny Vazquez & Imperio Azteca Dance Team – Mexico/Italy
★ Frankie Martinez
★ Jeff Tarpinian and Incognito Dance Company Team – England / Spain / Ukriane
★ Adolfo &Tania – Peru/Italy & The Latin Soul Dancers – Italy
★ Angelo Rito – Italy
★ Barbara Jimenez – Cuba (FIRST TIME IN BULGARIA!)
★ Cuban Flex – Cuba (FIRST TIME IN BULGARIA!)
★ Italian Groove – Italy
★ Dj Frankaly Lavoe – Italy (FIRST TIME IN BULGARIA!)
★ And the best artists and dance schools from Bulgaria, Romania, Greece, Turkey, England and more..
WEBSITE: FANTA FIESTA BULGARIAN SALSA CONGRESS 2019
Incognito Dance are the ONLY UK company with a discounted promo code valid so hurry now and book now.
For Full Congress Class & Party Passes, quote "INCOGNITO2019″ promo code and get discount (reduced from 74 euros to 59euros with 'Incognito2019" code click here: CONGRESS TICKETS DIRECT
Do not miss it. Highly recommended by the Incognito Team