Update November – check out all the offers
Hi,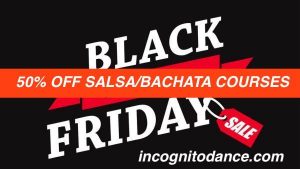 24th Nov is a Black Friday Special at Putney Salsa / Bachata Club – Wear Something Black and get 50% discount on any salsa/bachata course
Incognito Dance are offering massive discount on all the courses:
For the whole Black Friday week:
** Buy any 3, 6 or 9 week course at our clubs (not online) and get the 2nd one half price.
** if you buy a 9 week course you also get an Incognito Salsa Bag worth £20 FREE.
** Buy the Bachata Workshop on 9th Dec and get a second ticket for half price.
You can purchase your courses at these venues ONLY:
22nd Nov at Hammersmith Salsa/Bachata Club
23rd Nov at Wycombe Salsa/Bachata Club
24th Nov at Putney Salsa/Bachata Club
Also on 24th Nov we have a Birthday Party special for Paula & Martin and a leaving party for Alice Holmes.
Check out the latest newsletter, packed full with offers and major discounts. 
For a full update click here for the latest newsletter, packed with loads of offers